Hormel's meatless chili, IKEA's gyoza and other vegan eating news of the week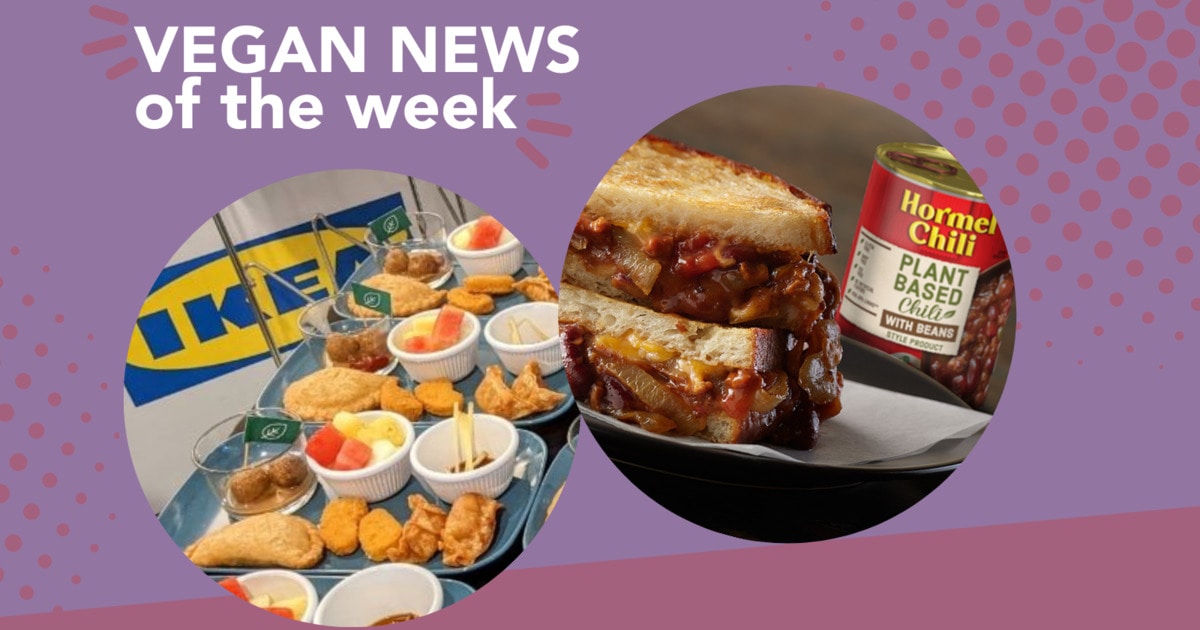 [ad_1]
It seems like every week in the world of vegan food news is more exciting than the last and this week is no exception. IKEA is stepping up its efforts to have half of its menu plant-based by 2025 with a fun menu addition in Singapore. MorningStar Farms is reinventing corn dogs with its new 'Morning Dog'. And Hormel is getting into the meatless chili business. Read on to find out more.
1IKEA's new vegetable gyozas
From Starbucks to Burger King, big companies are feeling the pressure to do their part to alleviate the climate crisis – and furniture giant IKEA knows that increasing plant-based food offerings is a good start. In 2015, IKEA first introduced a climate-friendly vegan version of its iconic Swedish meatballs and has since made changes to its bistro menus and food products, with the addition of hot dogs made from plants, dairy-free soft drinks, etc. to help reduce its carbon footprint.
Ikea
In 2020, IKEA unveiled an even more eco-friendly meatball called the "Vegetable Ball" that is only 4% of the carbon footprint of its animal-based counterpart. And this year, the chain made its first foray into vegan chicken products, with nuggets on the kids' menu in the US and plant-based chicken strips in the UK.
This week, IKEA made even more headway in that direction by announcing its plant-based menu changes in Singapore where it will start serving plant-based gyoza next month, according to local media. Mothership Singapore. IKEA plans to further expand its plant-based offerings with meatless nuggets in the coming months.
IKEA's ultimate goal is to shift its global menus to 50% plant-based and reduce its red meat dishes by 80% by 2025. IKEA also aims to shift its packaged food to 80 % herbal in that time frame. .
2MorningStar Farms reinvents the vegan corn dog
Corn dogs are a summer staple and while MorningStar Farms, a subsidiary of the Kellogg Company, is already making a vegan version of this typically meaty snack, the brand is upping the ante with a new "morning" dog. which is sure to please.
MorningStar Farms
New Incogmeato Pancake and Sausage on a Stick is a sweet and savory concoction that turns breakfast into a handheld snack. This new take on a vegan corn dog — available nationwide for $6.49 a four-pack — joins other plant-based meat products sold under the MorningStar Farms Incogmeato brand it launched with vegan chicken, burgers and sausages in 2020.
3Hormel launches meatless chili
The Hormel Corporation is best known for two things: chili and SPAM. And at a time when consumers are looking to eat less meat, the brand continues to innovate its flagship products to enter the modern era. This week, Hormel announced the launch of Hormel Plant-Based Chili with Beans, a vegan (but still meaty) version of its classic chili made with textured vegetable protein and soy-based crumble, to deliver the same texture, same taste and appearance as the original but without animal products.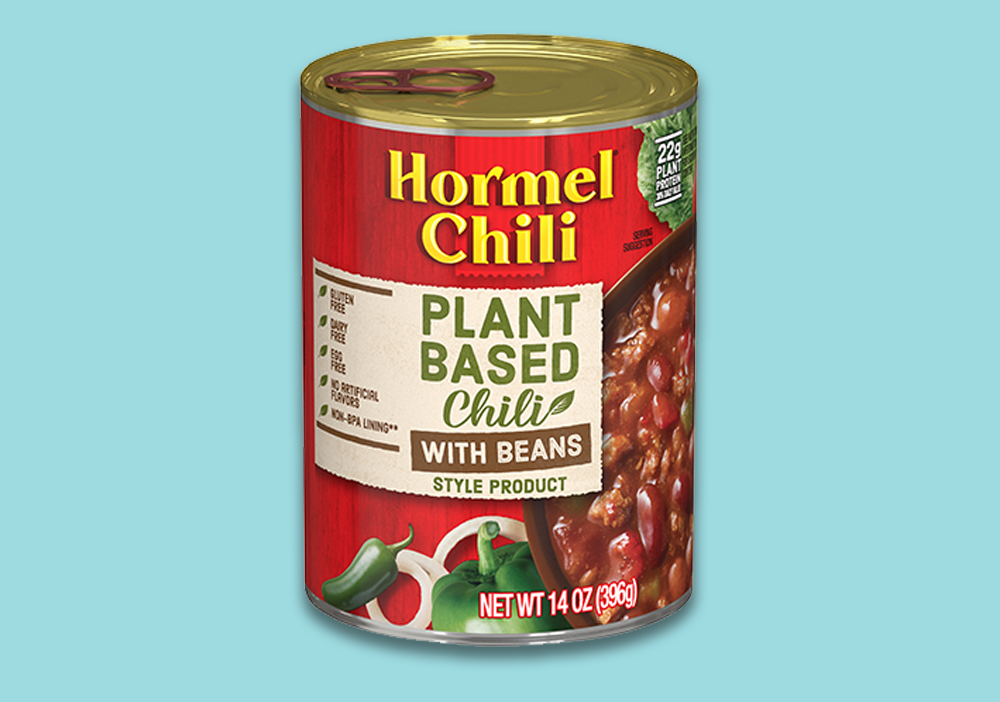 Hormel
"With the plant-based category growing at twice the global food rate and the fact that roughly two-thirds of plant-curious consumers crave plant-based canned chili, we wanted to provide a convenient and delicious solution. ', Sarah Johnson, Senior Brand Manager for Hormel Chilli, said in a statement. "Now plant-loving, curious consumers can enjoy America's #1-selling pepper brand."
Hormel already makes other plant-based meat alternatives, including pepperoni and ground meat, under its Happy Little Plants brand. Last year, Hormel announced that it was also working with food technology company The Better Meat Co. through its venture capital arm to bring even more plant-based meat innovations to the 131-year mark. Does this mean vegan SPAM could be in the works? Only time will tell.
4Free vegan food for Earth Day
Earth Day (today!) is a time to reflect on how best to conserve resources and save our planet and we're big fans of celebrating the holidays with free vegan food – and this year , we are lucky.
If you're looking for a burger to celebrate Earth Day, Carl's Jr. in Glendale, Calif., is offering meatless Beyond Burgers for a second year in a row to show that eco-friendly choices are easy to make.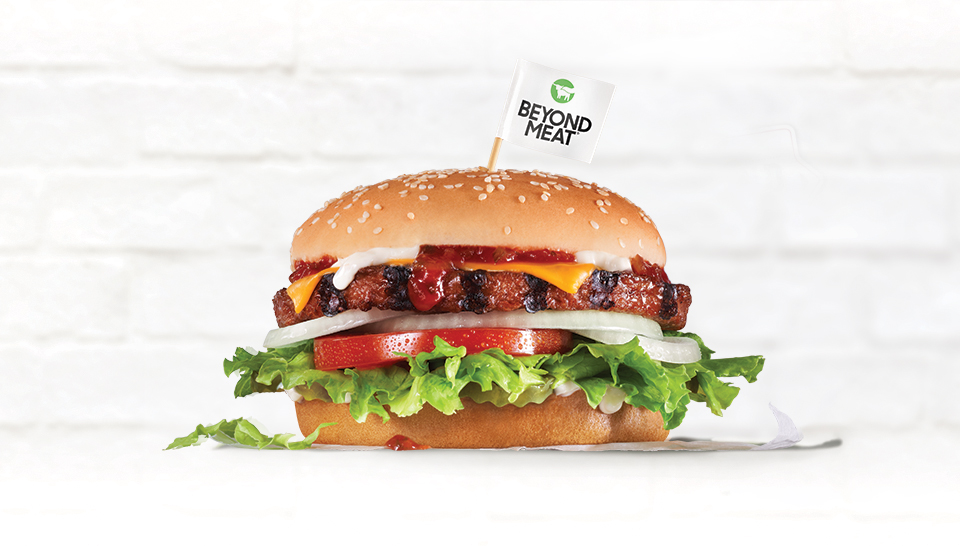 Beyond meat
On the East Coast, Plantega, a vegan concept created within bodegas to make plant-based foods more accessible, celebrates Earth Day with plant-based meat brand Daring Foods. The brand's chicken just appeared on the menu at 14 Planeta locations where it's used as part of a vegan chicken quesadilla and sandwich. Want to try it for free? Samples are available while supplies last on Earth Day at Marinello's Gourmet Deli, a Plantega serviced location in Brooklyn.
"We are thrilled to partner with Daring to offer 100% plant-based chicken through our signature menu, available only at bodegas in New York," said Nil Zacharias, founder and CEO of Plantega, in a statement. "We know this will be a huge success – for hungry consumers looking for delicious, plant-based options, and for our local bodegas who want to embrace the future of food and serve better options in their communities."
5Vegan ravioli are coming to Trader Joe's
Stocking up on eco-friendly foods is as easy as a stop at Trader Joe's where new vegan products are popping up every week. We've told you about all the dairy-free dips TJ's has added to its shelves (we still can't forget that Spicy Vegan Buffalo Dip!) and the sweet treats now stocked in the freezer aisle (looking at you, tiny Hold the Dairy ice cream cones!). Now there's something new to expect from the affordable grocery chain.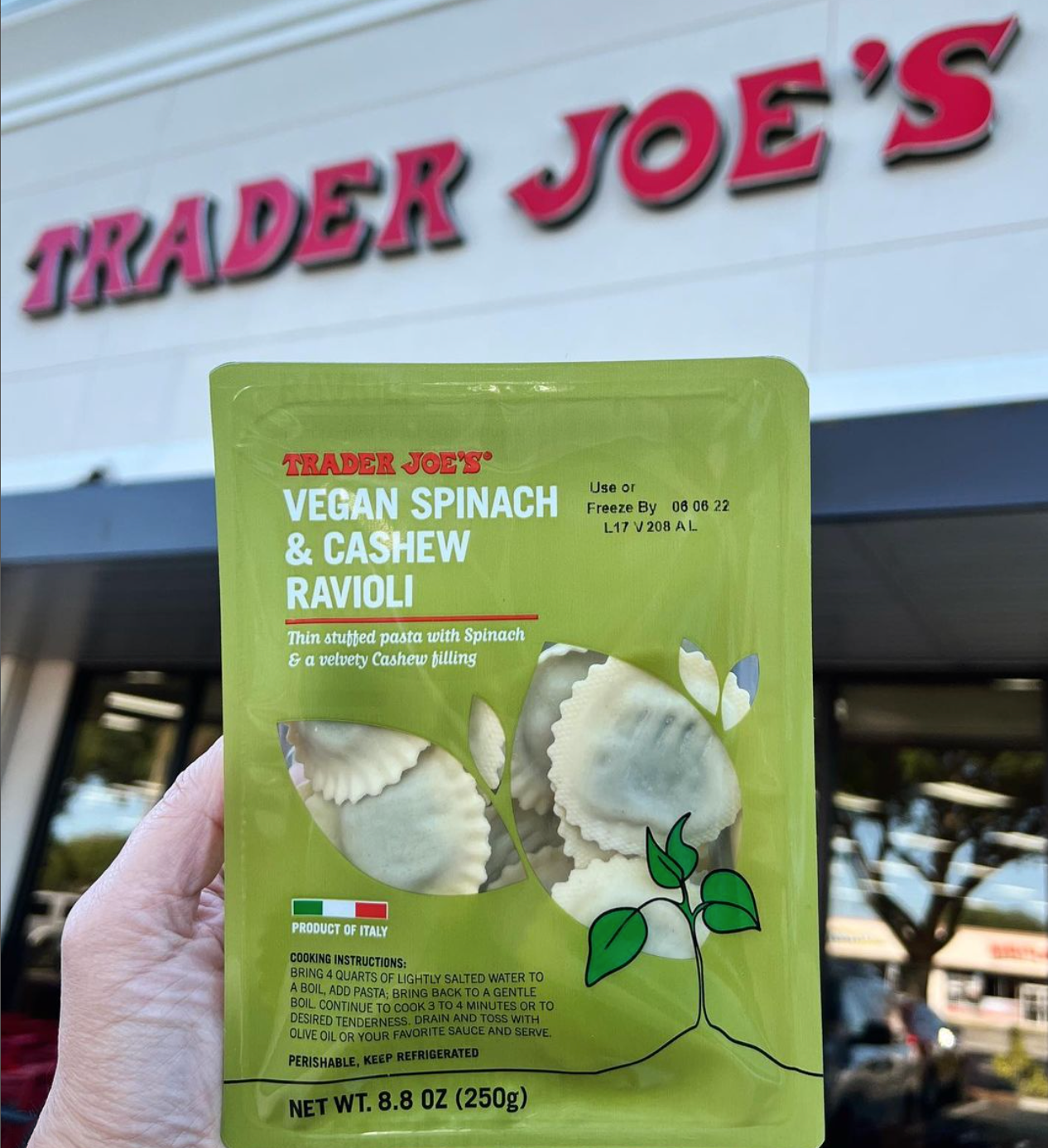 @BigBoxVegan
Trader Joe's has just launched its first plant-based stuffed pasta: Vegan Spinach and Cashew Ravioli. The hearty pasta is stuffed with a "cashew nut velouté [cheese] topping" meant to mimic ricotta and comes in ready-to-boil 8.8-ounce packs for $3.99 each. Shoppers spotted the new pasta at stores in California and Florida, but the chain has not yet confirmed that the new vegan product will be available nationwide.
For the latest vegan news, read:
6 vegan brands are stepping up their sustainability efforts for Earth Day
Gerber's new baby food line is all about plant-based protein
Lewis Hamilton's Neat Burger expands to the US

Get FREE vegan recipes delivered to your inbox by joining our award-winning VegNews recipe club.
Register
Get FREE vegan recipes delivered to your inbox by joining our award-winning VegNews recipe club.
Register

[ad_2]
Source link